Tired of feeling discouraged in your marriage?
Go From Frustrated to Flourishing with:
Creating a Marriage You Love
A 10 week bootcamp with practical, faith-based strategies that will help you fall in love with your marriage again!
Do you feel like you and your husband can't get on the same page?
Sick of fighting all the time or never dealing with the issues? Do you wish you had more quality time together?
You probably wish you could have some of the love and joy you had back when you were dating, but it's been so long since you've felt that way - you're wondering if it will ever happen again.
Imagine if you could start to experience a better marriage - a marriage you love!
What if you could have fewer arguments, less frustration, and more quality time together as a couple? What if you could get on the same page about where you're headed and how you want to spend your time?
You can create a marriage you love by making a few changes in the way you think, act, and deal with conflict.
Creating a Marriage You Love will help you to make changes in yourself and in your marriage so that you can start enjoying your husband - and your marriage - again!
I used to feel discouraged, frustrated, and even angry with my husband. I wasn't sure if my marriage would survive.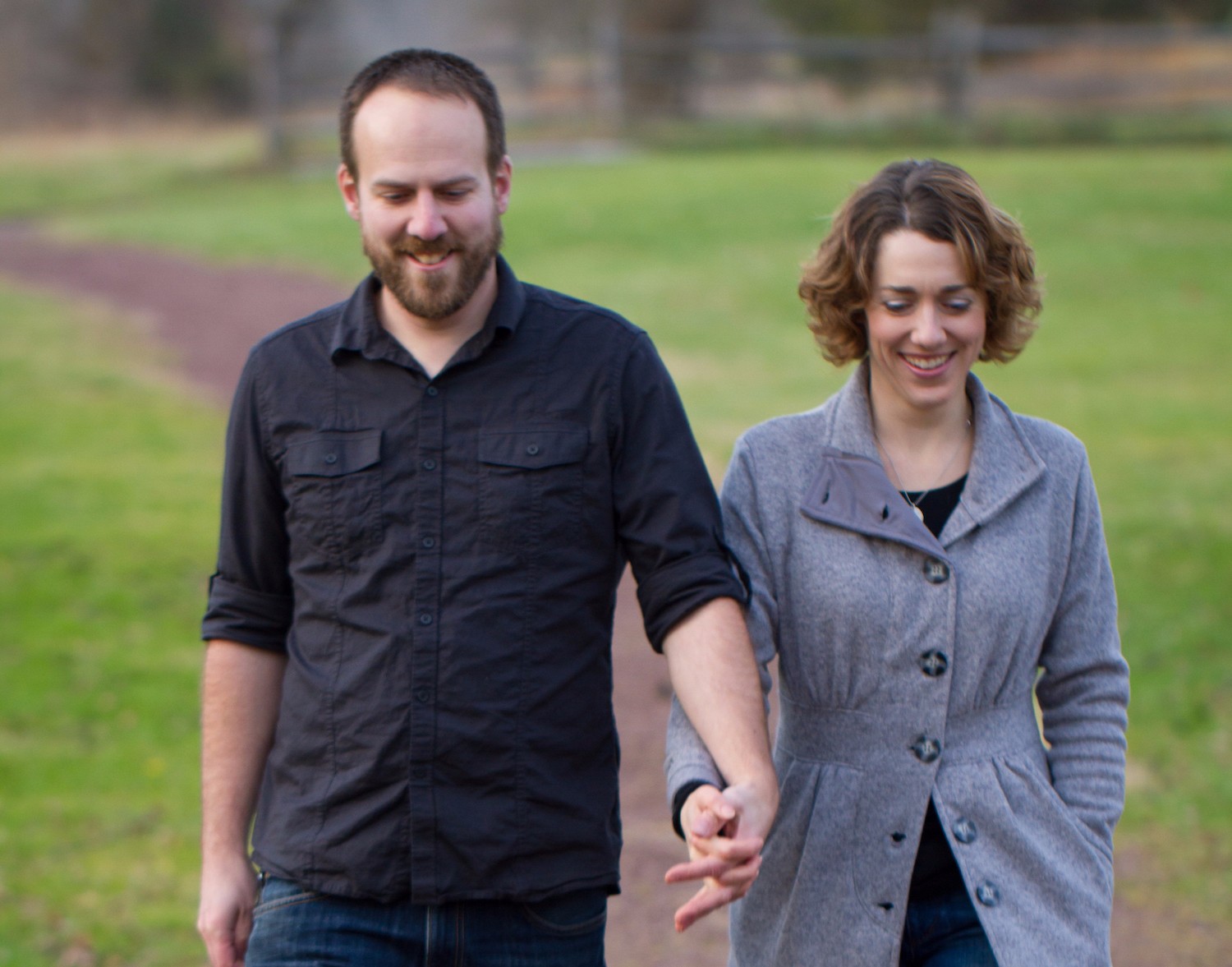 But when I started making some specific changes, I began experiencing a marriage that I truly enjoy!
During the 10 week bootcamp, you'll begin to:
Have a better attitude towards your husband on a day to day basis, even when things are not going as you would like
Experience less frustration and stress in your marriage due to unmet expectations
Feel happier and healthier, regardless of how your spouse is treating you
Approach and resolve conflict in a more productive way
Find ways to enjoy your husband and thrive in your interactions with him
Discover ways to get support for your marriage and continue to see changes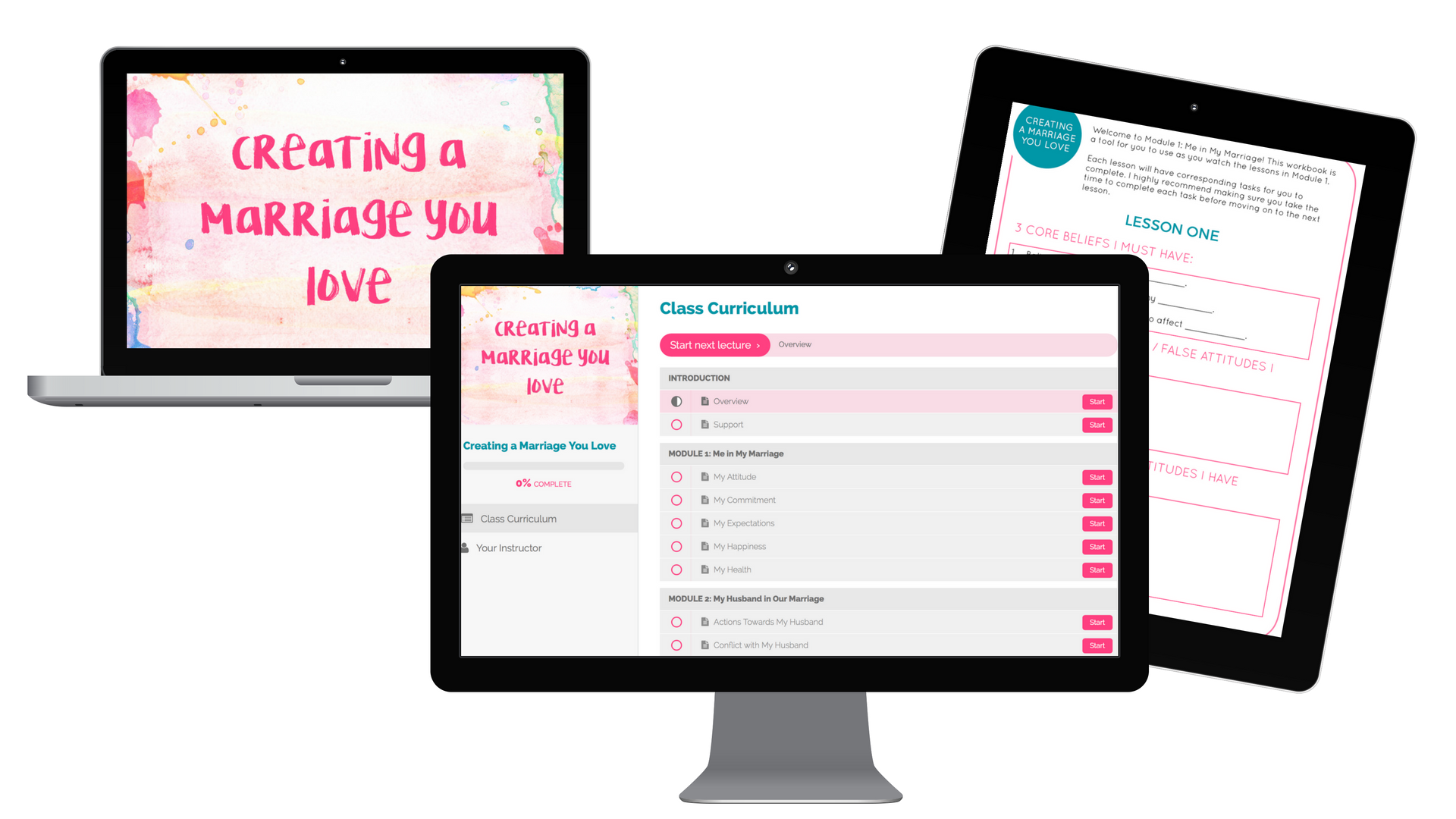 Here's what's included in the 10 Week Program:
Module 1: Me in My Marriage - We'll focus on your attitude, commitment, expectations, happiness, and health. You'll learn strategies that will help you to affect change in yourself and in your marriage. This is the foundation of the course, where you'll see the most changes when you take action.
Module 2: My Husband in Our Marriage - We'll dive into how you deal with interactions and conflict on a daily basis, and find ways to navigate these challenges with less stress and more peace. We'll also discover how to connect with your husband, even if you've grown apart and feel that you don't have much in common.
Module 3: Us and Other People - Here we'll look at ways to strengthen your marriage from the outside - where can you get support when you need it? How do you know if you need counseling or other resources? This module will give you practical ways to continue to grow your marriage long after you've completed the course.
There are 10 video lessons total, each designed to be completed one week at a time. This will give you time to dive deep and begin applying the things you're learning. A workbook will guide you through additional exercises to complete during the course.
BONUSES:
BONUS #1: How to Get - and Stay - on the Same Page as Your Husband!
Learn how to get - and stay - on the same page with your spouse. Experience less conflict over schedules and time when you use the strategies I teach in this bonus workshop.
BONUS #2: Marriage Planning Day Workbook
This workbook will guide you step by step through having a marriage planning day with your spouse!
BONUS #3: Private Facebook Group
You'll have access to a private Facebook group with other students and myself to guide you through the 10 weeks of the program. I'll be there to support you with any questions you might have during the course. The group will provide you with additional support as you seek to implement the steps of the course!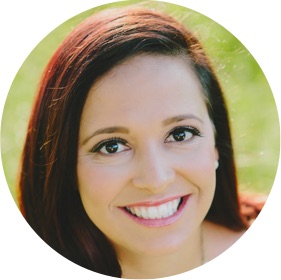 "Esther is a genuine and authentic person who has found a way to share her strengths with the world...and I've been a grateful recipient. As a busy family with two working parents and over scheduled kids, I often minimize the importance of my marriage.
Esther has imparted some very helpful techniques that help me re-prioritize my husband (and God) on a regular basis. I'm better able to manage my frustrations as a wife, having implemented the strategies she teaches. I'm grateful that her passions have found me."
-Natalie Gingrich, More Mom Movement
Course Curriculum
INTRODUCTION
Available in days
days after you enroll
MODULE 1: Me in My Marriage
Available in days
days after you enroll
MODULE 2: My Husband in Our Marriage
Available in days
days after you enroll
Here's what happens when you Buy Creating a Marriage You Love:

You'll receive a confirmation email & welcome packet right away

You'll be able to join the private Facebook group right away

You'll have lifetime access to the course and any updates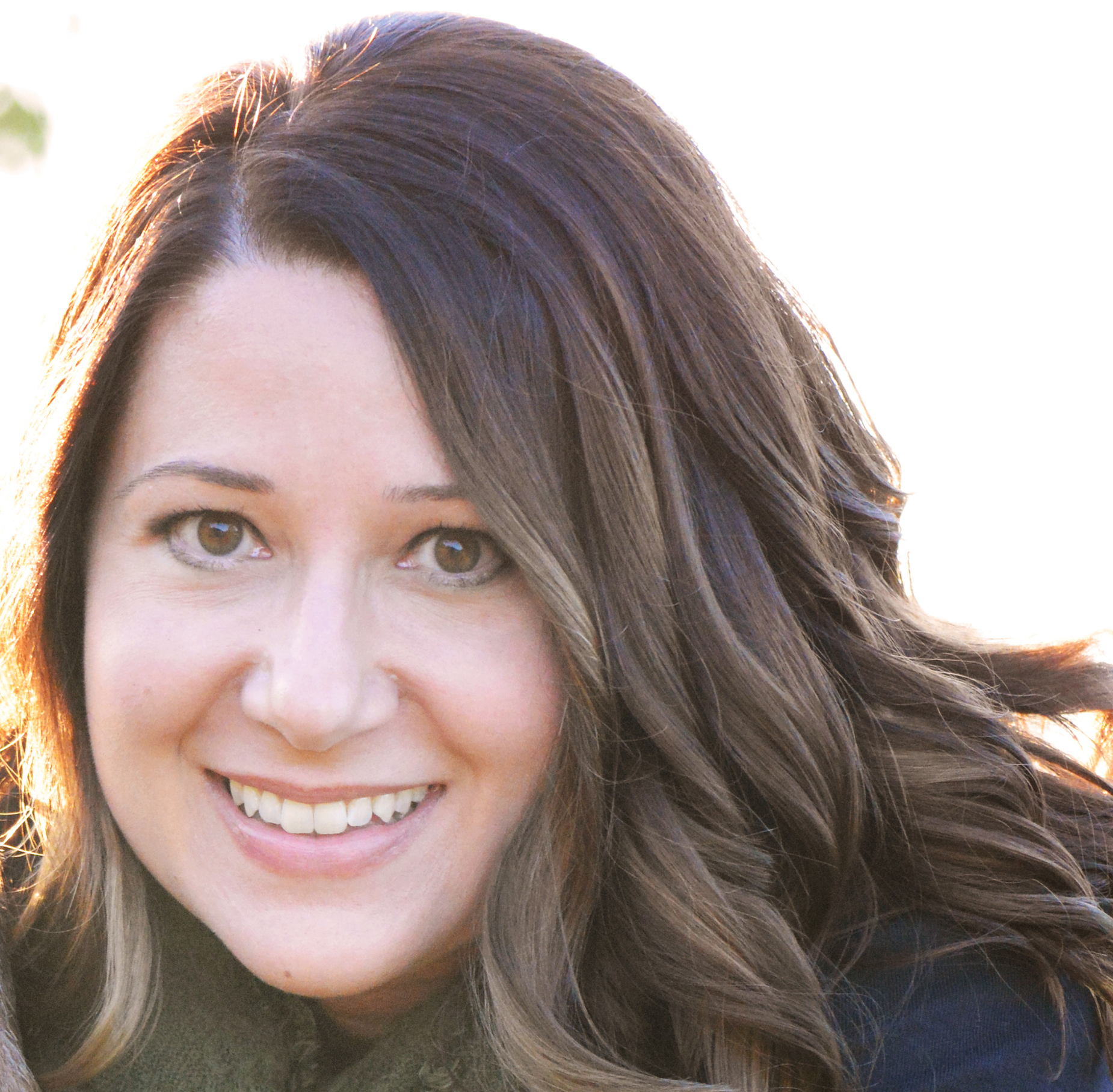 "Esther has hit a home run with her marriage course. She draws upon her own marriage experiences to help us all get on the same page with our husbands without all the struggles and frustration. If this course existed years ago, I could have avoided a lot of tension and conflict in my marriage. I highly recommend Esther and this marriage course!"
-Carrie Sharpe, He Says, She Says
Important Details:
Who is this course for?
If you are a Christian mom searching for a way to improve her marriage, this course is for you. This course is great for pastor's wives, moms in ministry, or Christian moms who are frustrated with the state of their marriage and want to find a way to change it. It's also good for Christian moms who want to safeguard and protect their marriage for the future.
If you are a mom who is tired of feeling irritated with your husband, wishing he would change - this is for you.
Who is this course NOT for?
This course is not for husbands. This course is specifically geared towards women, so the content is entirely focused on helping wives.
This course is not for someone who is not interested in faith at all. While you do not need to be a Christian to participate in this course, it IS based on Christian values, and faith will be discussed in the course. If this would bother you or offend you, I don't recommend taking the course.
This course is not for someone who is unwilling to change. In order to see the benefits of this course, you must be ready to make changes in your marriage. You must be willing to accept responsibility for what you CAN change in your marriage, and that is yourself. This course will not teach you how to change your husband.
This course is not for someone who is on the verge of divorce. If that is you, I urge to seek help from a professional. This course is designed for someone who is frustrated but is ready and able to make changes.
This course is not for someone in an abusive marriage. Please seek help from a professional or from law enforcement if that is you.
How long will it take to complete this course?
The course is broken up into 3 different modules, with a total of 10 lessons overall. Each lesson is designed to be done in one week. There will be a video component, as well action steps for most of the lessons.
Although you can go through the lessons faster than a week at a time, I encourage you to take the time to truly go through the content and take the action steps needed for each portion of the course.
Courses Included with Purchase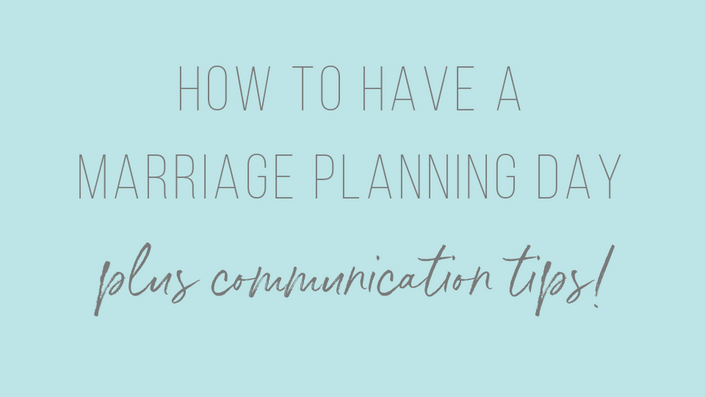 How to Have a Marriage Planning Day plus Communication Tips
Experience less stress and frustration in your marriage by implementing this one specific strategy!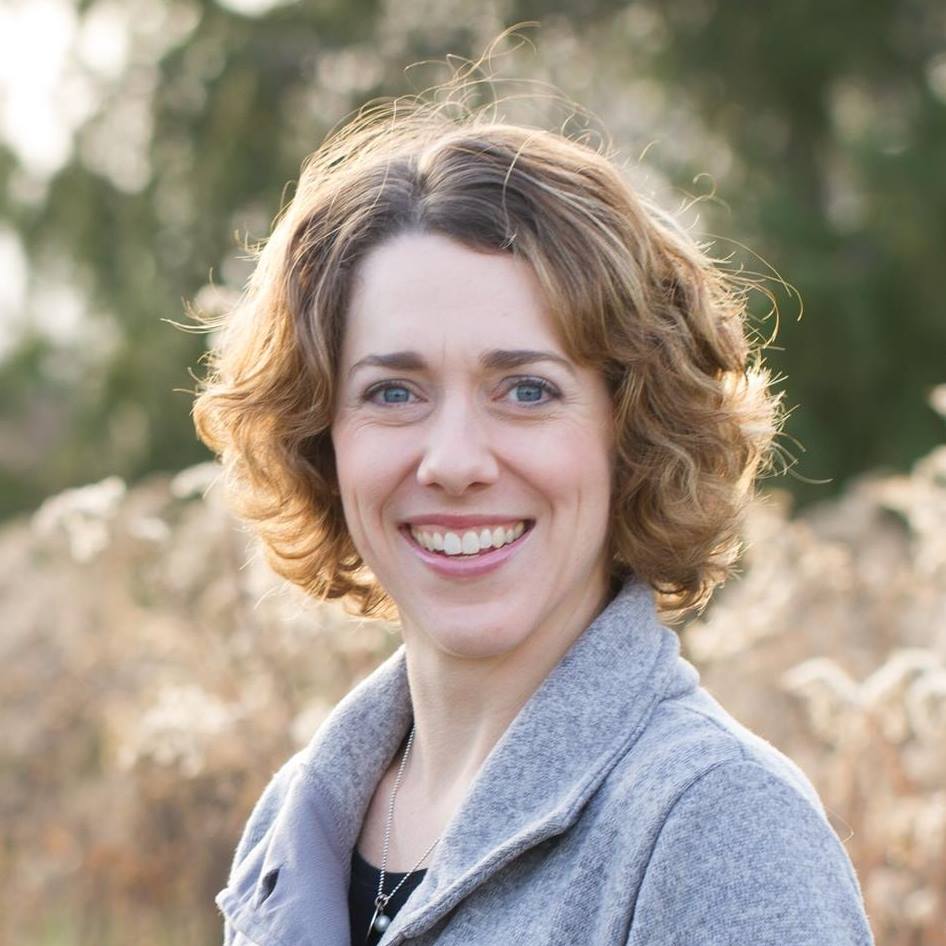 $17
Original Price: $17
Frequently Asked Questions
When does the course start and finish?
The course is available immediately and is self-paced. It is designed to take about 10 weeks, but you may go through it at any rate you wish!
How long do I have access to the course?
How does lifetime access sound? After enrolling, you have unlimited access to this course for as long as you like - across any and all devices you own.
What if I am unhappy with the course?
We would never want you to be unhappy! If you are unsatisfied with your purchase, contact us in the first 14 days and we will give you a full refund.
As a pastor's wife for 11 years, I know how challenging it can be to navigate dealing with marriage challenges in the church.
I know how isolating it can feel when you're not sure who you can talk to or whether they will understand.
After spending several years feeling unhappy or discontent in my marriage, I finally realized that I did have the power to change my marriage in many ways.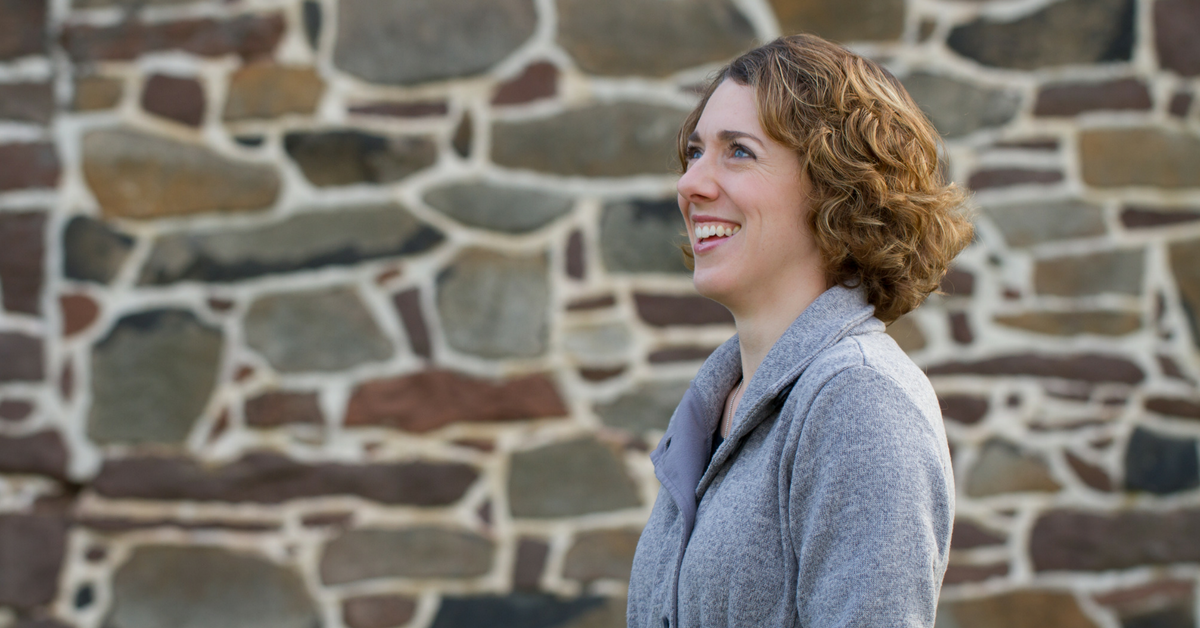 While I couldn't change my husband, I did have the ability to change my interactions with him, as well as take steps to help our marriage improve.
Since that time, we have seen steady improvements in our marriage, and we now lead an annual marriage retreat for our church. We've also spoken at our church about marriage, and lead marriage small groups as well.
I've combined my background as a licensed social worker, along with my 14 years of marriage and my search for ways to improve my own marriage, to create this course for you.